26th September
Plateforme Intermédia (Behind the Elephant) in Nantes
Vernissage of Electropixel exhibition + performance on September 26th at 7pm
Open from Wednesday to Saturday
from 4:30 pm to 7:30 pm
October 19 to 31 from 2:30 pm to 6 pm
!! closed on October 14 !!
Artists :
Chloé Malaise et Richard Malaise
Gabriel Vogel
Fryderyck Expert et Jérémy Picard
Krypt'Art (Carine Léquyer et Julien Le Tallec) + Jean Luc Arru et Jean Luc Branchereau
CarbonDeath
Sophie Keraudren-Hartenberger
Benoît Travers
8:30 pm – "Ébrèchement sonore"
Performance by Benoît Travers, 25 min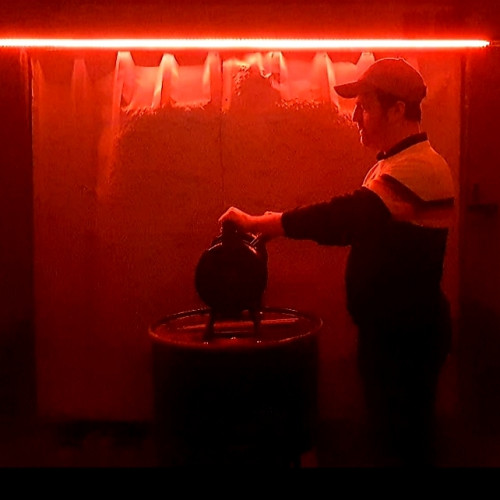 Benoît Travers, «Ébrèchement sonore, performance, vidéo, 2019»,
photography : all rights reserved
……………………………………………………………………………………………………………………..
CHLOÉ MALAISE AND RICHARD MALAISE
«Deus ex Machina»
"Since Descartes, more and more things depend on us. One is from now on in a period or we depend on things which depend on us ".
Michel Serres
The spectator enters a dark space, a screen diffuses the still image of a jungle: a vegetal setting, an idyll in which the visitor could almost enter.
Loudspeakers emanate the surrounding sounds of this nature, both distant and close, almost accessible. When you lie down on the cushions on the floor, to contemplate the image for a moment, you realize that it is not a still image. The jungle lives in real time.
By observing it well, we discover that the image, hyper-realistic, is in fact the fruit of a virtual materialization, it is a 3D model, a decor. The sound, whose irrationality was infinitely guessed, is in fact a jungle sound recomposed from electromagnetic frequencies emitted by electronic objects of our daily life (computer, refrigerator, washing machine, heating…).
This installation ironically underlines the immanence of Nature, made inaccessible by man, but very present, even if it is only an artifice. It confronts the visitor with the oxymoron of an artefact-nature and proposes in this sense a space for meditation in the wobbly relationship Nature-Society.
Through a practice closely related to sound, sound installation, electronic experience and hacking, Chloé Malaise is developing an artistic project that seeks to critically examine our hyper-electronic and material environment.
As much through installation as through live performance or the creation of sound tools, her projects take the form of formal and/or technological reappropriations that question our relationship to these architectures and technologies that surround us. Through her various projects, she scrutinizes with a poetic and sensitive look the artefacts of our society as elements of a second nature.
site : chloemalaise.net
Richard Malaise is a director of films and live shows in the institutional sector, trailers for video games, credits for documentaries, he is also a chief editor, 2D-3D rigger and videographer for documentaries and advertising.
Within La Compagnie des Mornes Bleu, he co-signs the scenography and the video dressing for two shows.
For more than 20 years, he has been developing the digital visual part of Patrick Cheval's cosmogony "La Forêt Épopée" with which he elaborates landscapes and virtual characters full of poetry. Together, they are working on a project for a 3D animation series that is currently in development.
Epopart website : https://www.epopart-creations.com/
Epopart facebook page : https://www.facebook.com/epopartcreations
facebook page : https://www.facebook.com/richard.malaise
……………………………………………………………………………………………………………………..
GABRIEL VOGEL
Dancing sound piece. The work of Gabriel Vogel hypnotizes the spectator, as much by the movement of the record player that rotates the metal structure, as by the sounds that are born from the meeting of the different elements between them.
An automatic percussion, a new instrument that invites to let go. To lose oneself more and more deeply in the shades of light of the materials. And to listen, again and again, to the rubbing, the tinkling, the beating of metal against metal.
Living in Nantes since 2000, Gabriel Vogel is a sound artist, drummer and also a painter. He explores the musical terrain in a meticulous way. He records, shapes and creates his sound pieces in the manner of a sculptor. The movement is important, the precision is essential, the imagination is at the rendezvous. He also designs his own instruments, built from recovered elements, recycled in a sonorous way.
……………………………………………………………………………………………………………………..
FRYDERYK EXPERT AND JÉRÉMY PICARD
Thoughtful actions or a simple letting go.
« A table » is a sound installation that invites to lose the notion of time through play.
Diverted from its primary function, the coffee table becomes here an instrument.
120 bouncing balls make it possible to play and compose alone or with others around it; the repetition of simple gestures then participate in creating a bewitching synergy.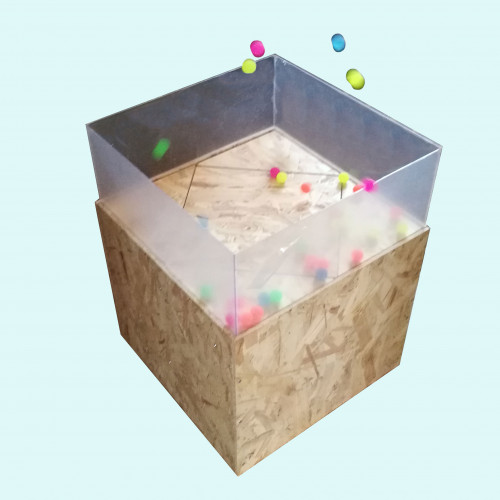 Fryderyk Expert et Jérémy Picard
https://jeremypicard.fr/
http://fredexp.fr/
http://www.labricool.fr/
……………………………………………………………………………………………………………………..
KRYPT'ART + JEAN LUC ARRU AND JEAN LUC BRANCHEREAU
Krypt'Art presents a video based on the destructuring of photographs of wildlife on the banks of the river Erdre, by Jean-Luc Arru and Jean-Luc Branchereau. Recomposition "wild" of a look at nature! The transformation of photographic images by digital processes leads Julien Le Tallec and Carine Léquyer to rework this raw material, to invent a new video painting proposing an otherness to their observation.
"Artists know it: the savage looks at you without you perceiving him. He disappears when man's gaze has caught him." La panthère des neiges (2019) by Sylvain Tesson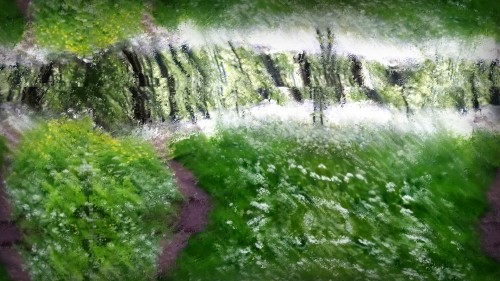 Computer graphic designer and musician, Julien Le Tallec develops an artistic work through computer-generated reveries mixing figuration, abstraction and electronic music.
Trained as a musician and visual artist, Carine Léquyer develops work at the crossroads of sound and image in various contexts. From concerts, performances, and shows, to films, videos, and audiovisual installations, she questions their relationships and seeks to find new languages.
Their artistic encounter within Krypt'Art in 2014 (Jovéenne Association, a sound/image laboratory inspired by Art/nature/environment relations) is at the origin of a series of audiovisual creations. These artistic proposals, far from a self-reflexive exploration of the medium used, seize the tools of digital art to entertain the viewer, while questioning the relationship between Nature and Culture in the 21st century.
Jean Luc Arru and Jean Luc Branchereau, photographers, observe the fauna during their walks, nautical and pedestrian on the Erdre. Their work constitutes a collection of images that testifies to the natural heritage along the river.
……………………………………………………………………………………………………………………..
CARBONDEATH
Going back and forth between wild urban space and miniaturized gallery, CarbonDeath proposes to transform unauthorized garbage dumps into sculptural potential. Humans and waste are intrinsically linked but among the chain of living beings on our planet, humans are the only ones to produce as much, or even more, waste than they consume. CarbonDeath invests the gallery as a mini-laboratory of the action carried out in urban areas, a lab in the sense of a molecular research under the aegis of a new concept: Microb-art, short for microbe and art, proposing a form of installation on the scale of the microbe to be seen with a microscope or a magnifying glass.
CarbonDeath is a collective of artists who propose an artistic and scientific research without chapel limits, potentially alienating artists, curators, scientists and academics thanks to a voluntary impertinence towards places, concepts and ways of doing things specific to each of these fields.
……………………………………………………………………………………………………………………..
SOPHIE KERAUDREN-HARTENBERGER
"Glowing" is a ready-made composed of a blown glass fragment made of ouraline glass dating from the beginning of the 20th century from Montceau-les Mines, a former mining town in the Saône et Loire mining basin.
Uralin is a glass in which uranium has been incorporated, it shines with a green glow when revealed under ultraviolet light.
Used since antiquity, Uralin glass reached its peak in the 20th century in France and internationally. There are several types, and its manufacture continues in the United States (Fenton Art Glass Company, Mosser Glass, GibsonGlass, and Jack Loranger).
Adorned with many virtues at the time of its discovery, sometimes beyond the reasonable, radioactivity is not a recent discovery.
While it is true that the military atomic explosions of Hiroshima and Nagasaki in 1945 and the civil nuclear accidents of Chernobyl in 1986 and Fukushima in 2011 contributed to creating and maintaining fears and anxieties, radiation from radioactive substances is widely used in industry for the control of manufactured parts, in nuclear medicine for diagnostic and therapeutic purposes.
The isolated fragment of uraline glass becomes a contemplative subject, a contemporary vanity highlighting a reminiscence, the revelation of the physical phenomenon considered "the most revolutionary scientific discovery of the years 1895 to 1905″*.
Radioactivity raises much more than technical or scientific issues.
scientific, philosophical, ethical and ontological questions.
*Emilio Segré, Les physiciens modernes et leurs découvertes.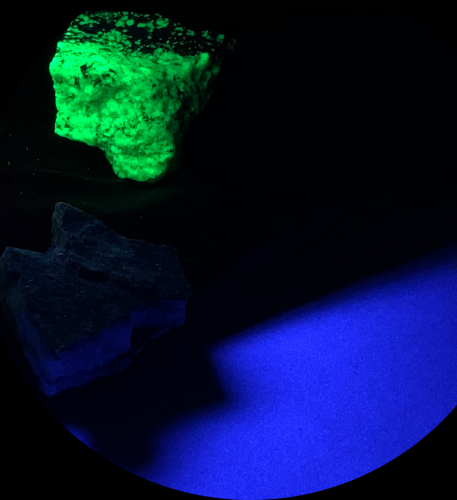 Sophie Keraudren-Hartenberger develops a work of sculpture, film, installation around the pre-existing links between the infinitely large and the infinitely small. The exploration is carried out in different places, natural, industrial and scientific.
Through a multidisciplinary approach often linked to place, Sophie Keraudren-Hartenberger's practice engages devices of revelation. Describing the world from the natural or transformed materials of which it is composed. The materials are selected for their intrinsic properties and their potential for transformation. This results in sensory stagings composed of sensitive images, sculptures, films, installations. The working process can be assimilated to a practice inherited from naturalism or empiricism in the experimentation of combinations of revelations of new spaces. By integrating a scientific and industrial dialectic, it correlates the infinitely large and the profound character of the infinitely small whose perception exists thanks to the tools of science.
Beyond the simple formal relationship, Sophie Keraudren-Hartenberger proposes us to question matter and a certain temporality in which the spectator is led to look closely, from afar, above, below, in the light, in the darkness. Thus, what seemed familiar to us until then is mixed and confused by a system of association that makes us doubt our knowledge and our senses, a fabrication of the imaginary sowing the seeds of perceptual confusion.
……………………………………………………………………………………………………………………..
BENOÎT TRAVERS
Visual artist, performer, musician lives and works in Nantes.
Benoît Travers creates works resulting from actions that are often repetitive, hypnotic and enduring: sculpture, video, performance, poetry, photography and sound. Recent exhibitions and projects share a common protocol: L' ébrèchement. Founding gesture of actions and plastic thought with porous contours and slippery, vibrant borders. L'ébrèchement is an action of transformation, of metamorphosis through gestures chosen for their simplicity: hammering, tearing, cutting, abrading with different materials, metal, wood, textile, clothing, paper, glass or objects used by the worker, the sculptor, as an investigation of the production process: toolboxes, wheelbarrows, ladders, scaffolding, construction site fence, plans, photographs etc.. This detour from the usual function of objects experiments with a poetic aesthetics of a mise en abîme, transforming manufactured objects into organic and hybrid objects.

Ébrèchement miroirs, phase 1

Ébrèchement billots de boucher
Benoît Travers is a graduate of the DNSEP des Beaux-Arts de Rennes and the California College of Art and Craft in San Francisco, he coordinates performance workshops in National Schools of Arts and Performing Arts, he also teaches percussion, drums for musicians and dancers in various conservatories and dance institutions.
Confiné.e.s #2, Interview with Benoît Travers
Interview conducted by Adeline Têtue – Adeline Têtue / Galerie RDV et Benoît Travers
https://www.reseaux-artistes.fr/dossiers/benoit-travers/#textes